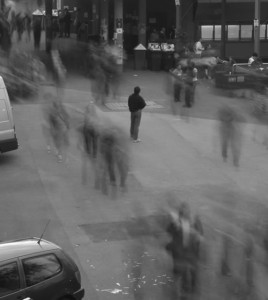 Social anxiety is a fear of interacting with other people. My grandmother doesn't leave the house, and I've always understood this. It seems to me that by not leaving the house, you are limiting the amount of disruption, annoyance and discomfort dealing with others can put on you. And frankly, I feel that a certain age, you can do anything you want.
I do think dealing with others causes stress. Other people have moods too. You can't control another person's actions, thoughts or behaviors, but you can control your own. However most of us live in such a way that social interaction is necessary. Most of us don't hunt, or raise all of our food in the garden out back, and most of us have to work in places and situations where dealing with others is necessary.
Other people's moods can and do affect our own lives. Everyone knows that if one person is in a bad mood, that chances are that you will be in one by the end of the day too. Bad moods have a ripple effect, and sooner or later, everyone gets caught in these ripples.
On the other hand, good moods do the same thing. Someone is in a kind mood or in a generous or optimistic mood, and it affects those around them. It seems like the older people get, the less moodiness most people have. This isn't true with everyone, but for the people who it is true for, it is a blessing to be around them.
Some people attract and live for drama. They can find drama alone without anyone else around them. There are many people who are attention seekers, and need attention so desperately that they don't really care who gives it, or how it happens, they just need it. And if you're the only person in their vicinity, it will somehow become your job to give them the attention they are looking for.
I will be honest – some days, it seems like Grandma's got the right idea.
All best,
Rose